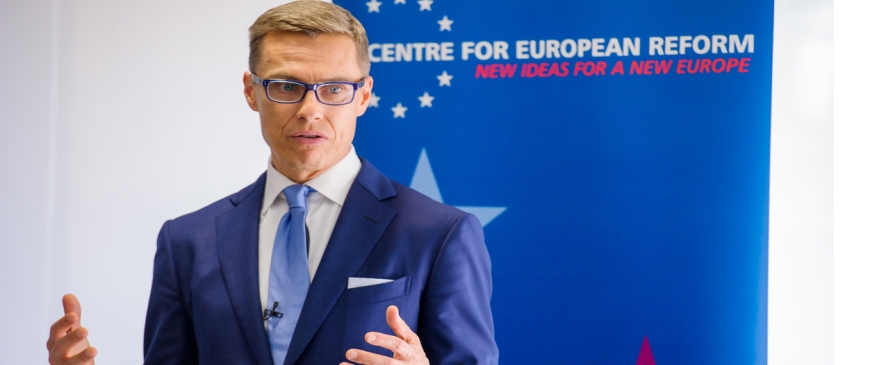 Finnish Prime Minister calls for 'more Europe' on energy and climate policy
Stubb came straight from a meeting with David Cameron, and said that it was a good day for Britain in the EU; firstly because Jonathan Hill was accepted by the European Parliament as Commissioner for Financial Services, and secondly because the Commission agreed to the UK government's contract with EDF energy to build the new Hinkley nuclear power station. It was clear from his remarks and the tone of delivery that he strongly wants the UK to remain in the EU.
Stubb predicted that the energy portfolio will be of central importance in the Juncker Commission (and said that, given the rejection by MEPs of the Slovene Alenka Bratusek as a Commissioner, he expects the Slovak Maroš Šefčovič to be nominated as vice president for the energy union). He stressed that the scientific evidence is clear and that much more climate action is required. Stubb criticised anti-nuclear campaigners for claiming that the debate is nuclear power versus renewables. Instead, he said, the issue should be seen as nuclear and renewables against fossil fuels. He is right about this: nuclear power is low-carbon and is necessary for at least the next sixty years, until Europe can become totally reliant on renewable energy.
The Finnish prime minister was very clear that climate change policy requires 'more Europe': pollution does not stop at national frontiers and the effects of pollution effect the entire world. The EU should continue to show climate leadership, particularly through technological innovation. Stubb's call for greater European co-operation on energy and climate policy echoes the call made by former Dutch Foreign Minister Frans Timmermans in a letter to the Dutch Parliament following his government's subsidiarity review. This is a crucial point: subsidiarity does not always mean decentralisation or repatriation. Interestingly, the Financial Times suggests that in his new role as First Vice President, Timmermans may see his portfolio expanded to include sustainable development, following Bratusek's rejection.
On the proposed 2030 climate and energy targets, Stubb argued for one main target, forty percent reduction of greenhouse gas emissions (from 1990 levels) flanked by two subsidiary targets: an improvement in energy efficiency by "around 30 per cent" and an increase in renewable energy to 27 per cent. This is in effect what the Commission has proposed, since only the greenhouse gas target would be divided among member-states. The proposed energy efficiency and renewables target would apply only to the Union as a whole, so would not be enforceable on anybody.
Asked whether he supported a roll-back of 'green tape, Stubb was emphatic that he did not. He pointed out that the session had started with a health and safety announcement about fire escapes. The UK is the only country he knows of that has this sensible regulation, which saves lives. Climate and environmental regulations can also increase public protection. Some are inefficient or unnecessary, and should be repealed. But most are not, so should remain or be strengthened. Stubb said, eloquently and enthusiastically, that this would not hold back Europe's economic recovery. Instead, it would promote innovation and green growth.
Stephen Tindale is an associate fellow at the Centre for European Reform.