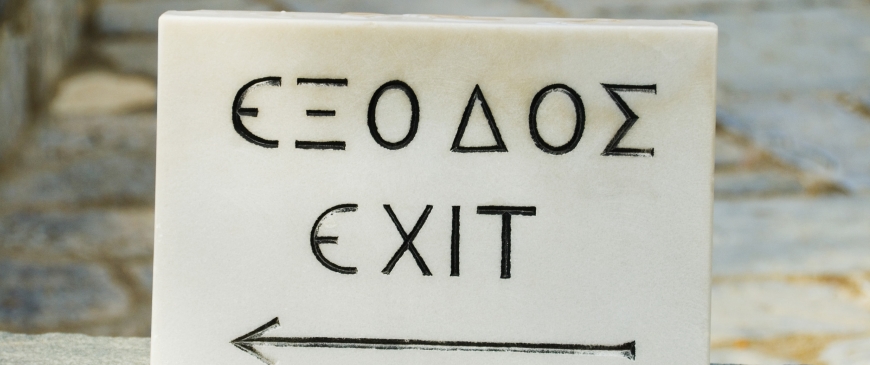 Germany is becoming relaxed about a Grexit – perhaps too relaxed
Many EU member states and the US still fear the consequences of Greece leaving Europe. They need to get their voices heard in BerlinIn Berlin, views on Greece's possible exit from the eurozone are shifting. "We have never been closer to a Grexit, and we are close," said a senior official. The last time a Greek departure looked likely, in 2012, Angela Merkel worried that it would provoke panic in financial markets and pulled back from the brink. This time, Germany's leaders think a Grexit would not destabilise the eurozone.
Merkel's officials say that she would be willing to compromise with Greece – if prime minister Alexis Tsipras, whose Syriza party was elected in January, came up with a serious reform programme. Germany wants his socialist government to commit to fighting corruption, improving tax collection, strengthening fiscal discipline, modernising labour markets and attacking vested interests. But three months after being elected, Tsipras seems unwilling or unable to do any of these things.
Germany is losing patience. Until Greece comes up with a viable plan, Merkel will block the release of existing bailout funds, and ensure there is no new money. Meanwhile, the Greek government is struggling to repay foreign debts and to pay salaries and pensions. A Greek default, which could easily lead to a Grexit, is looming.
One key point for Merkel, say officials, is that Germany should not be blamed. A recent visitor reports her as saying: "If Grexit happens, people will see the cause was that Greece failed to do its homework, not that we withheld solidarity." In this blame game, Merkel is – at least for now – succeeding. Many of those – including France and Italy, and to some degree the European Commission and the International Monetary Fund – who agree with Greece that Germany has imposed excessive austerity, have been alienated by Syriza's chaotic style of governing, its extreme rhetoric and its inept diplomacy. Countries such as Finland, the Netherlands, Slovakia and Estonia are pushing Germany to take a hard line. So are Spain and Portugal, proud to have carried out painful reforms.
Some German officials think Greece would be better off out. "As an economist, I am not sure Greece should stay in the euro," said one. It is structurally uncompetitive and could stagnate like southern Italy, he believes. Alhough Latvia, Lithuania, Spain and Ireland had understood the need for change, "sometimes the pressure to reform does not work", and he worries that keeping Greece in at all costs could undermine European cohesion.
Advocates of a Grexit believe that if Greece had an autonomous monetary policy and a weaker currency, the economy – which has shrunk by a quarter since the crisis began – could recover more rapidly than if it remained locked in an austerian eurozone. Yet leaving the euro would mean millions of contracts having to be rewritten; and foreign debt (in euros or dollars) would balloon when measured in new drachma, forcing companies and banks into default. Inflationary pressure and financial chaos would ensue. The deeper institutional and structural problems of the Greek state and economy would remain unresolved, constraining long-term growth prospects.
As for the impact on the rest of the eurozone, German officials are remarkably sanguine. German taxpayers are liable for around €70bn of Greece's €240bn of official debt, the loss of which, they say, would be manageable. Over the past five years, the EU has created the European stability mechanism, with €500bn for helping troubled banks or governments, while the European Central Bank has unveiled a bond-buying scheme for emergencies. So the officials not expect systemic threats to the eurozone.
"Spain, Portugal and Ireland would be alright because they have done their homework," said one German official. When pressed, he said that if a Grexit drove the financial markets to demand a premium before lending to another country, Germany would reassure them by proposing more integrated eurozone policy-making.
But such attitudes may be too nonchalant. A Grexit would demonstrate that the euro lacked the political foundations to ensure its permanence, and the markets' reaction is unknowable. The ESM lacks the resources to bail out, says, Italy. Those worried that a Grexit could trigger a partial unravelling of the eurozone include the IMF, the European Commission, the ECB, France, Italy and the Obama administration. The US also frets about the geopolitical context: what if a bust-up between Athens and its partners fuelled a Greek-Russian rapprochement?
These governments and institutions are urging Merkel to be patient with Athens, and to explore every option for compromise. If a Grexit triggered significant economic or political damage, they would put much of the blame on Germany. The US has long understood that in its role as the transatlantic alliance's hegemon, it must accept some costs for the greater good of the alliance's stability. It expects as much from the EU's hegemon.
But in Berlin, which plays a decisive role in eurozone crisis management, the key decision-makers believe Greek membership of the euro is becoming unsustainable. Germany does not always listen to voices in other capitals. Its friends should make every effort to help it to see the bigger picture.
Charles Grant is director of the Centre for European Reform.