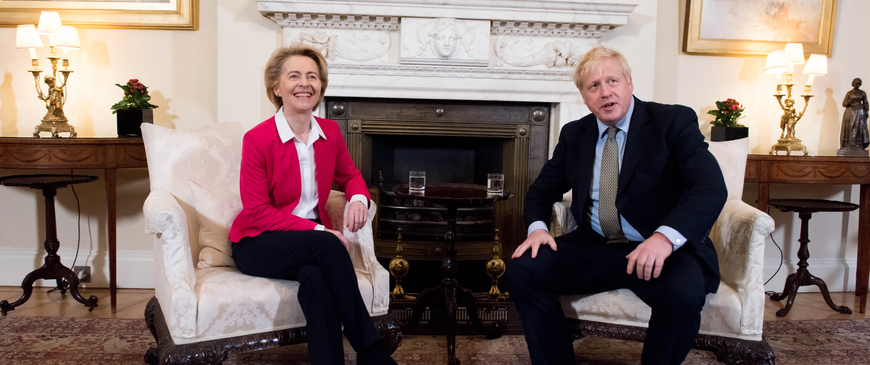 Here's how the UK should work with EU to combat coronavirus and end the lockdown
As the coronavirus pandemic continues its rampage around Europe, neither the British government nor the EU plans to extend the transition period. But whether Britain leaves the single market at the end of the year or later, European governments need to work together to contain the virus, and there are some potential benefits for the UK while it is still in transition. The government should seize them.
It was a bit-player in the early response to the crisis, but the EU will become more important as countries ease lockdowns. Travel restrictions between EU countries – and the UK – will only be lifted if governments trust each other to keep infections under control. And research into the spread of the disease and treatments for it, which is still in its early stages, will work better if conducted on a continental scale.
EU member-states did not show much solidarity during the first stages of the pandemic. Some imposed export bans on medical equipment. Haphazard border controls made it difficult for people to return home and goods to get through. The European Central Bank has kept the eurozone afloat without much help from bickering governments. And countries continue to chase scarce supplies of testing kits, ventilators and protective equipment for health workers.
The EU's joint programme for public procurement has bought £1.3 billion of medical equipment so far, and it has launched new procurement calls for medical supplies, including testing kits. The Commission is also building a stockpile of medical equipment that will be distributed to countries, including the UK, that need them. It is unclear whether joint procurement will ease supply shortages in Europe, but it makes sense for Britain to take part if it means the NHS will receive more supplies.
 That goes for measures to ease the lockdown too. A vaccine may be as much as 18 months away, and the virus is so infectious that lockdowns must be lifted carefully. Austria, Denmark and Germany have already announced plans to open schools and some workplaces. They will be important test cases, providing evidence to other governments on the extent to which, say, opening primary schools raises the infection rate.
The EU can play an important role in sharing that evidence with other countries whose outbreaks have been worse and who can only ease lockdowns later. The Imperial College study that prompted the UK government to change course used data about the spread of the virus in northern Italy, and data from Denmark, Austria and Germany will be equally important. The EU is planning a task force of national officials who will share information on their containment strategies. British specialists should be involved.
Lockdowns are a blunt instrument, curbing the pandemic by isolating everyone. The hope is that mass testing and contact tracing will limit the need to isolate to those who are actively infectious, rather than the entire population. Contact tracing apps have been used in Singapore and South Korea to help contain outbreaks. These apps use Bluetooth or GPS to register when other people carrying devices that are running to app come into close proximity. The apps alert people if they have been close enough to someone who later tested positive.
Many countries in Europe have already announced that they are developing such apps, and the Commission wants to ensure that they can talk to one another and protect users' privacy. This will be important to allow travel restrictions to be lifted. British travellers to Italy will want to know that the NHS app will ping if they have been in contact with an infected person while they are on holiday. And Italy will want to know that the NHS app is working effectively – on top of broader UK-wide policies to contain the virus – before allowing British people to visit.
The UK has a big pharmaceuticals industry, and it is already involved in developing treatments and potential vaccines. The Commission and the European Medicines Agency have plans to co-ordinate medical research and industry to conduct large-scale trials of the most promising treatments. The more people that take part in clinical trials, the better, because it will give scientists more data on drugs' effectiveness and side-effects. A vaccine may be developed in the US, China or elsewhere, but it's in everyone's interest that all countries join up to develop and administer treatments. The EMA will help to co-ordinate a pan-European effort, which will be more effective if the UK takes part.
We have left the EU, but now it is up to us to decide how we will engage with the continent from now on. But the virus has no respect for borders, and the UK should help to keep British and EU citizens safe in any way it can.
John Springford is deputy director of the Centre for European Reform.