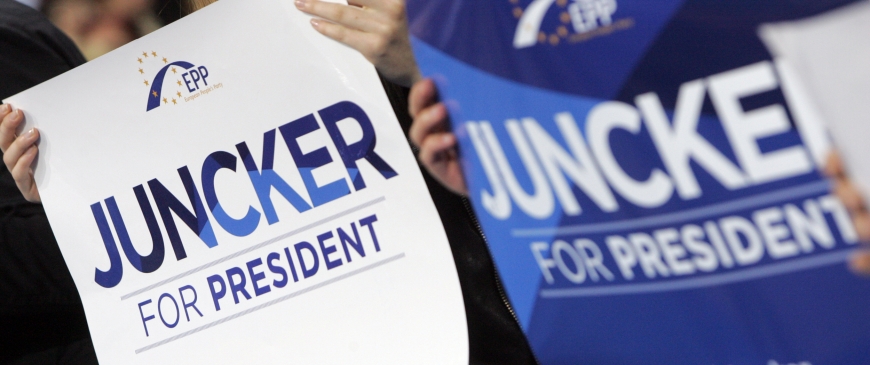 Juncker als Kommissionspräsident: Gefährlicher Griff nach der Macht (with English translation)
An English version of this text can be found below.
Das Europaparlament will Jean-Claude Juncker als Kommissionspräsidenten durchdrücken - eine gefährliche Idee! Es würde die Briten aus der EU drängen. Wenn Premierminister Cameron das sagt, klingt das nach Erpressung, aber es ist die Wahrheit. Ein Gastbeitrag.
Noch nie stand die Europäische Union größeren Herausforderungen gegenüber: chronisch schwaches Wirtschaftswachstum, noch nicht überwundene Euro-Krise, populistische Feindschaft gegenüber der EU, ein Vereinigtes Königreich, das nahe daran ist, den Klub zu verlassen, und ein drohendes Russland. Die EU kann diesen Problemen nicht ohne eine starke Europäische Kommission begegnen. Dennoch wollen viele Proeuropäer, vor allem in Deutschland, den nächsten Präsidenten der Kommission nach einer Methode bestimmen, die diese Kommission schwächen würde: durch Spitzenkandidaten.
Das Europäische Parlament und andere Anhänger dieser Methode behaupten, die Europawahl haben den Wählern eine wirkliche Alternative geboten: die zwischen Jean-Claude Juncker von der Europäischen Volkspartei (EVP), Martin Schulz von den Sozialisten und anderen Kandidaten als Repräsentanten kleinerer Gruppen; weil die EVP die meisten Sitze gewonnen hat, solle sich der Europäische Rat dem "Volkswillen" beugen und Juncker benennen. Es gibt allerdings mehrere Gründe, warum die europäischen Führer Spitzenkandidaten ablehnen sollten.
Keine wirkliche Alternative
Zum einen präsentierten die führenden Kandidaten den Wählern keine wirkliche Alternative. Juncker und Schulz haben sehr ähnliche Meinungen. Sie wollen der EU mehr Macht verleihen, ohne allerdings groß deren Arbeitsweise zu verändern. Außerdem können sich Wähler nicht zwischen Kandidaten entscheiden, von denen sie nicht wissen, wer sie sind. Es wird behauptet, die "Europäer wollen, dass Juncker Präsident wird". Wirklich? Die EVP hat 60 Sitze verloren und verfügt noch über 214 von 751 Mandaten, bei einer Wahlbeteiligung von 43 Prozent. Wichtiger noch ist, dass die meisten Wähler vorher weder von Juncker noch von Schulz etwas gehört hatten. Das ist nicht weiter verwunderlich, weil beide für die meisten Leute jenseits Brüssels unbekannte Politiker sind. Nur in wenigen Staaten, in Deutschland und Österreich, stießen die Spitzenkandidaten auf Interesse.
Zweitens würde das Spitzenkandidatensystem aus der Kommission eine parteipolitischere Organisation machen. Ein Präsident Juncker wäre der EVP-Fraktion im Parlament verantwortlich. Das könnte die Glaubwürdigkeit der Kommission als Institution zur Durchsetzung von Regeln beschädigen. Nehmen wir an, die Kommission verhielte sich nachsichtig gegenüber einer Mitte-rechts-Regierung in Spanien, die die Haushaltsregeln verletzt hat. Man würde sie der parteipolitischen Voreingenommenheit bezichtigen. Die Kommission muss über den Parteien stehen.
Das dritte Problem mit Spitzenkandidaten ist, dass es der EU schwache Führer gäbe. Juncker war 18 Jahre Ministerpräsident von Luxemburg. Sein Rücktritt wurde von einem Spionageskandal überschattet. Für seine "Führung" während der Euro-Krise erhielt er nur wenig Lob, weil er in Schlüsselentscheidungen selten eingebunden war: Zwischen Januar 2010 und Juni 2012 rief der amerikanische Finanzminister Geithner den Präsidenten der Europäischen Zentralbank 58 Mal an; er telefonierte 36 Mal mit Wolfgang Schäuble, aber nur zweimal mit Juncker.
Gute Kandidaten wurden abgeschreckt
Das System der Spitzenkandidaten hielt wichtige Politiker davon ab, ihre Namen ins Gespräch zu bringen. Amtsinhaber hätten zurücktreten müssen, ohne sicher sein zu können, als Spitzenkandidat nominiert und dann auch Präsident zu werden. Mehrere plausible Kandidaten bewarben sich gar nicht erst um die Nominierung. Dazu gehörten Dalia Grybauskaite aus Litauen, Enda Kenny aus Irland, Christine Lagarde vom Internationalen Währungsfonds, Fredrik Reinfeldt aus Schweden, Helle Thorning-Schmidt aus Dänemark und Donald Tusk aus Polen.
Eine starke Kommission braucht einen dynamischen und starken Präsidenten. Sie braucht jemanden, der die Institution verändern kann und gleichzeitig sowohl das Vertrauen des Parlaments als auch der Mitgliedstaaten genießt. In den vergangenen Jahren ist die Kommission schlecht geführt worden, es fehlte ihr eine klare Ausrichtung.
Die Regierungen in Berlin, London und anderswo wollen, dass die neue Kommission vorrangig den Binnenmarkt ausweitet, Handelsabkommen aushandelt, die Energiesicherheit der EU verbessert und eine gemeinsame Antwort auf Russland zustande bringt. Juncker hat nie großes Interesse auch nur an einem dieser Themen gezeigt.
Feindseliges Verhältnis zu den Briten
Lange Zeit hatte er ein feindseliges Verhältnis zu den Briten gehabt. Deshalb würde eine Benennung Junckers den Verbleib des Vereinigten Königreichs in der EU erschweren. Wenn Premierminister Cameron das sagt, klingt das vielleicht nach Erpressung, aber es ist auch die Wahrheit. Das schwache Abschneiden der oppositionellen Labour Party bei den jüngsten Wahlen bedeutet, dass Cameron eine gute Chance hat, die Unterhauswahl 2015 zu gewinnen. Und das würde ein Referendum über die Zugehörigkeit zur EU im Jahre 2017 bedeuten. Diejenigen, die für einen "Brexit" eintreten - für einen Austritt (exit) Großbritanniens -, beten, dass Juncker ernannt werden möge. Ihre Aufgabe wird leichter, wenn die EU von einem uninspirierten, politisch leichtgewichtigen Integrationisten geführt wird, der kein Interesse an Reformen hat.
In den Verträgen steht nichts über Spitzenkandidaten, sondern dass der Europäische Rat bei seiner Entscheidung das Wahlergebnis berücksichtigen solle. Das Parlament versucht die europäische Verfassung zu ändern, ohne die Verträge anzutasten. Und doch sehen offenbar viele Deutsche, die sonst auf die Regeln achten, diesen Griff des Parlaments nach der Macht relativ gelassen.
Der Autor, Charles Grant, ist Direktor des "Center for European Reform" in London.
-------------------------------------------------------------------------------------
Juncker as Commission president: A dangerous grab for power
The EU has never faced greater challenges: chronically slow economic growth, a euro crisis that is far from resolved, a surge of populist hostility to the EU, a UK that is close to leaving the club and a menacing Russian neighbour. The EU cannot tackle such problems without a strong European Commission. Yet many pro-Europeans, particularly in Germany, want the Commission's next president to be chosen by a method that would weaken it: Spitzenkandidaten.
The European Parliament and other fans of this method claim that the recent elections gave voters a real choice – between Jean-Claude Juncker of the European Peoples' Party (EPP), Martin Schulz of the Socialists and those representing smaller groups.  They also say that citizens need to see a link between the way they vote and the politicians who run the EU. And because the EPP won the most seats, they argue, the European Council should bow to the 'popular will' and anoint Juncker. However, EU leaders should reject Spitzenkandidaten for several reasons.
First, the two leading candidates did not offer voters a real choice. Juncker and Schulz hold very similar views, supporting more powers for the EU without wanting to change much in the way it works. In any case, electors cannot choose between candidates without knowing who they are. Mathias Dӧpfner claims that "Europeans want Juncker to become president." Really? The EPP lost 60 seats and has only 214 of the 751 MEPs elected (on a turnout of 43 per cent). More importantly, most of those voting had never heard of Schulz or Juncker, which is not surprising, since they are obscure politicians to most people outside Brussels. Only in a few countries, like Germany and Austria, did Spitzenkandidaten generate some interest.
Second, the Spitzenkanditaten system would make the Commission more party-political. A President Juncker would be accountable to the EPP in the Parliament. That could damage the Commission's credibility and legitimacy as a regulator and enforcer of rules. Suppose the Commission was soft on a centre-right Spanish government that had broken budget rules; it would be accused of political bias. Many of the Commission's tasks require to it remain above party politics.
The third problem with Spitzenkandidaten is that it will give the EU weak leaders. Juncker was prime minister of Luxembourg for 18 years but resigned under a cloud, having mismanaged a spy scandal. He chaired the Eurogroup throughout the euro crisis but – seldom involved in key decisions – won few plaudits in that role. Jean Pisani-Ferry's new book, 'The euro crisis and its aftermath', reveals that from January 2010 to June 2012, US Treasury Secretary Tim Geithner called the European Central Bank president 58 times, Wolfgang Schäuble 36 times and Juncker just twice.
The system of Spitzenkanditaten discouraged heavyweight politicians from putting their names forward. Those in office would have had to resign without any certainty of gaining the nomination or winning the presidency. Several plausible candidates for the presidency held back from seeking nomination. These include Dalia Grybauskaite, Enda Kenny, Christine Lagarde, Fredrik Reinfeldt, Helle Thorning-Schmidt and Donald Tusk, respectively the leaders of Lithuania, Ireland, the IMF, Sweden, Denmark and Poland.
A strong Commission requires a dynamic and effective president – one who can shake up the institution while retaining the confidence of both the Parliament and the member-states. In recent years the Commission has been poorly led, lacked focus and proposed too many badly-drafted regulations. It has become too willing to pursue the Parliament's agenda, thereby damaging its credibility in national capitals.
Governments in Berlin, London and elsewhere want the new Commission to prioritise extending the single market, negotiating trade deals, enhancing EU energy security and encouraging the 28 to forge a common response to Russia. Yet Juncker has never shown much interest in any of these issues.
He has long had an antagonistic relationship with the British. Indeed, Juncker's appointment would make it harder to keep the UK in the EU. When Cameron says that, he may be resorting to blackmail, but it happens to be true. The Labour opposition's poor performance in the recent elections means that Cameron has a good chance of winning next May's general election – which would mean a referendum on EU membership in 2017. Those campaigning for 'Brexit' are praying for the Juncker's appointment: their job will be easier if Europe is led by an uninspiring, lightweight federalist, uninterested in EU reform.
The EU treaties say nothing about Spitzenkandidaten. They say the European Council should take into account the European elections when choosing the president – which means that he or she should come from the largest party – and that MEPs must vote in favour. The Parliament is trying to change the EU's constitution without changing its treaties. Yet many Germans – normally a legally-minded people – seem relaxed about the Parliament's power-grab.
Charles Grant is director of the Centre for European Reform.