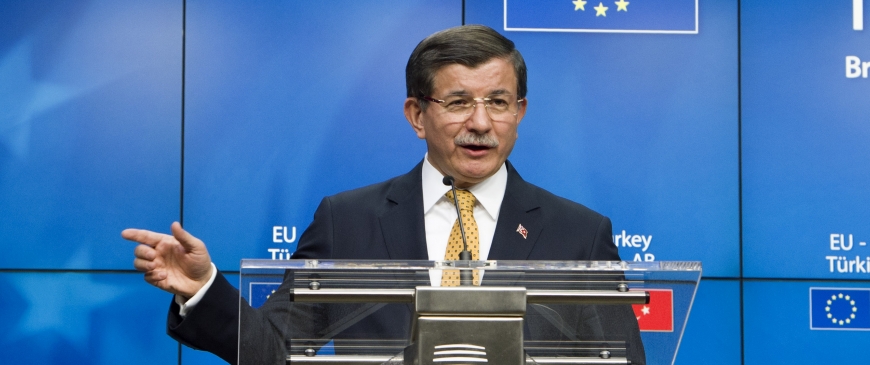 What does Davutoglu's resignation mean for Turkey and the EU?
Ahmet Davutoglu's resignation comes at a sensitive moment for the EU's migration deal with Turkey. Why did the prime minister fall from the sultan's favour, and what does it mean?
Over the past few weeks Davutoglu appeared increasingly worried about the hollowing out of his position. He had every right to be frustrated. In late April his grip on the AK party was weakened, as party bosses decided to stop him from appointing provincial party executives. Davutoglu has been, of course, head of government and head of the ruling AK party in name only. The real chief sits in a 1000-room presidential palace overlooking Ankara. The Turkish presidency is supposed to be a mostly ceremonial function, but having worked with Recep Tayyip Erdogan for at least a decade, did Davutoglu really think he was anything but a pawn?
Perhaps Erdogan feared a palace coup. As a true, self-styled sultan, Erdogan worries about potential challengers. His vigorous crackdown on the media is an attempt to crush criticism and dissenting opinion. His focus on the Gülen movement is fuelled by a conviction that there is a conspiracy out to topple him. He now seems to have turned his gaze to his inner circle. As a former foreign minister, Davutoglu built a strong international network. European leaders liked the soft-spoken, cerebral, English-speaking former professor. Davutoglu was also easier to deal with than Erdogan, whose hot temper, pride and lack of a foreign language often makes meetings difficult. Davutoglu was the more gentle, liberal, pro-Western face of the AK party's leadership and the list of disagreements between him and the president was growing. Was Erdogan worried that Davutoglu could challenge his power? Was he a Turkish Icarus flying too close to the sun?
Less sensational, Davutoglu may have believed he could dampen Erdogan's authoritarian tendencies. Schooled as a political scientist, Davutoglu most certainly believed in respect for the Turkish constitution. He may have disagreed with Erdogan's push to centralise power despite the result of the November general elections. Those elections failed to provide the necessary parliamentary majority Erdogan so desperately wanted to change Turkey's constitution into a fully presidential system.
But now we know that Erdogan's ambitions will not be derailed by something so trivial as democratic process. Davutoglu will be replaced by someone who is even more loyal to the president; more loyal even than a university professor who owes it to Erdogan to have risen through the ranks of Turkish politics, unelected, to become the country's prime minister. Perhaps Erdogan thinks he can now only rely on family; his son-in-law is rumoured to be among the leading contenders for the job.
It comes at a precarious moment in the EU-Turkey relationship and it presents a headache for German chancellor Angela Merkel and other European leaders. The migration deal ‒ warts and all ‒ was negotiated by Davutoglu. It bears his fingerprints. If the EU does not want the deal to fall apart, European leaders will need to rebuild cooperative relations with whoever becomes the next prime minister, and do so quickly. A new prime minister will not be appointed before May 22nd. Three weeks of uncertainty await.
Once again, Erdogan has caught the EU off guard. The row between Davutoglu and Erdogan came on the same day as the European Commission's announcement that visa-free travel is within reach for Turkey. Visa-free travel to the EU would be the single-most important achievement in Ankara's negotiations with the EU since the agreement on the EU-Turkey customs union in 1995. Was the timing a coincidence, or with the prize of visa-free travel in sight did Erdogan believe he could get away with pushing his prime minister out and take another step towards consolidating his rule? Mister Erdogan has been in power for over a decade. And he has just made it very clear, once again, that he has no intention of going anywhere soon.
Rem Korteweg is a senior research fellow at the Centre for European Reform.
A Spectator podcast with Rem Korteweg on this article can be found here.